REVIEW: pop ups of my mind
This is a blog review entry for Yuuki's TwinBlogversary Contest.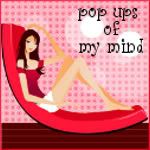 Pop ups of my mind
is Nicquee's personal thoughts on "mommying", married life, friendship, corporate world, WAHM opportunities, politics, blogging in general and everything in between. Basically, it's about everything under the sun.
Nicquee's way of writing makes it easier for readers to share their comments and/or suggestions. Her frequent updates make her blog one of the informative blog I've read so far. And the only blog I've seen (again, so far) which uses Disqus comments.
Nicquee has just recently updated her blog's layout to show this unique 3-column blue and orange theme that she modified herself. It actually gives a refreshing feeling to the reader.
Did I mention that Nicquee is also one of GirlTalkers I met online? Yes, she is. But aside from that she also joined other groups which are neatly presented on her blog too.
REVIEW: pop ups of my mind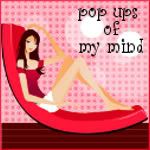 Reviewed by
Unknown
on
5:41 AM
Rating: